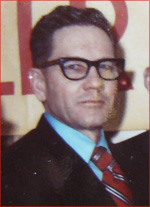 Born on the North Dakota prairie near a town called McHenry, George Thaler was the oldest of six children. He was only six years old when his father died, and fifteen years old when his mother passed away.

George worked 40 hours a week while attending the University of Wisconsin Eau Claire, where he majored in math and science, and was president of his senior class. He earned a teaching degree at UW-Eau Claire.

During World War II, George served as a naval aviator from 1942 to 1946.

In 1943, George married Ferne Larson of Eau Claire, and together had three sons and one daughter.